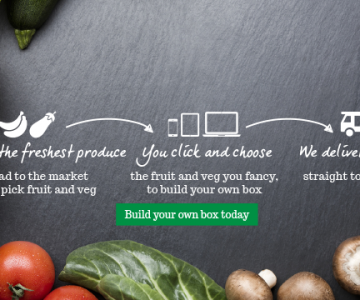 Fruit and Veg Boxes have Arrived!
Exciting news! Creamline's new fruit & veg boxes have landed – and they're a sight for sore eyes.  As colds and sniffles start to take hold this autumn, boost your immune system the easy way, by adding fresh fruit and veg deliveries to your Creamline order. 
We've taken the hard work out of hitting your five a day, as you can now:
-          Order your fruit and veg box online by 9pm for delivery as soon as the day after tomorrow.
-          Customise the contents of your fruit and veg box. Choose from our 60+ lines of fruit and veg you get exactly what you want in every order, which means great value as nothing is wasted. If your family isn't into sprouts, then your fruit and veg box will be a sprout-free zone!
-          Enjoy market fresh fruit and veg:  the contents of each and every fruit and veg box we deliver are fresh from the market.  Our team heads down to Manchester's New Smithfield market early every morning to pick out the juiciest and best quality produce. So you can support your local markets and avoid a stressful supermarket sweeps.
-          Put your feet up:  we offer free delivery to your door!
Keen to give it a go?  Find out more about our fruit and veg boxes or build your first box! 
Share This
Related Posts