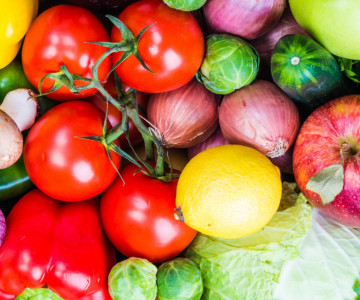 Five tips for eating well with Creamline
The importance of eating well has been dominating the headlines recently, following the government's launch of its new strategy to tackle obesity in the UK.
The coronavirus pandemic has meant many of us are spending more time at home, where the temptation to snack on less healthy food is harder than ever to resist! The good news is that with Creamline, there are many delicious, healthy choices just a few clicks away. Here are our top tips:
1. Start the day the right way
Make time for breakfast! No doubt you'll have heard breakfast referred to as 'the most important meal of the day' and that's for good reason. It's important for topping up your energy stores for the morning's activities and to stop you from feeling hungry before lunch. The British Nutrition Foundation (BNF) suggests kickstarting the day with a balanced breakfast including a starchy food, some dairy and a portion of fruit. With our wholemeal bread, fresh fruit and dairy options aplenty, you can always start the day well with Creamline.
2. Have your 'five a day'
We all know we should do this, but how many of us actually manage it? Getting your five a day is actually easier than it sounds when you consider fresh, frozen, canned, dried and juiced fruit and veg all count! Why not chop a banana over your breakfast cereal or swap your mid-morning snack for a piece of fresh fruit? Head to the greengrocer section of our Best of Local collection to see our range of handpicked fruit and veg, fresh from Manchester's Smithfield market.
3. Keep drinking
The government recommends we have 6-8 (non-alcoholic!) drinks every day. According to the BNF, mild dehydration can make it difficult to concentrate, and can cause headaches and tiredness. Water is recommended as the best option for regular drinks, and while it's important not to have too many sugary drinks, low fat milks, and tea and coffee make great healthier options too.
4. Get hooked on fish
Fish is a fin-tastic source of protein and contains many essential vitamins and minerals. The NHS advises we eat at last two portions a week, including one portion of oily fish like salmon, herring or trout, which is high in omega-3 fats and may help prevent heart disease. Our local fishmonger exclusively sources the freshest produce for Creamline so take a look at our fabulous selection here.
5. Embrace starchy carbs
Starchy carbs have had a bad reputation in recent years with some people thinking starchy foods are fattening. Gram for gram, the carbohydrate they contain actually provides fewer than half the calories of fat and it's recommended that foods like potatoes, bread, and pasta should make up just over a third of the food you eat. Wholewheat varieties and potatoes with skins on are high in fibre, which will help you feel full for longer too.
The tips we've shared follow advice from the NHS and British Nutrition Foundation, where you'll also find lots more information about eating healthy and enjoying a balanced diet.
Share This
Related Posts