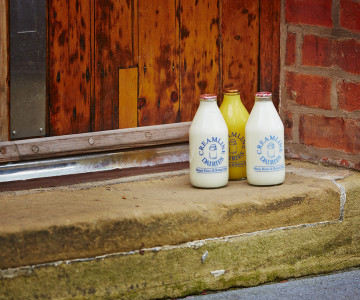 Get ready for the Bank Holiday with Creamline
We've got a three-day bank holiday extraordinaire on our hands this weekend. It's a perfect time to spend time with your family. Come rain or shine, there's plenty to do in Manchester and the surrounding area over the weekend to keep you busy.
We've got a few recipes in store for you too, so you can put your culinary skills to the test while you take over the kitchen in pursuit of some tasty treats.
Family Fun
Take a look at our top picks for family fun in Greater Manchester this weekend:
·         First up is the fantastic Bolton Food and Drinks Festival which is being held in Bolton Central Library and Museum. They've got loads on for the kids, from their 'grow gang' to the 'Wonderful World of Willy Wonka. The event starts on Friday 26th August and runs all the way until Monday. http://www.manchestereveningnews.co.uk/whats-on/event/food-and-drink-festival-events-bolton-central-library-and-museum/
·         Lookout, it's Saturday Playhouse! The Lowry in Salford Quays is hosting an arts and creative event for children, which aims to get them involved in the arts scene around Salford and Manchester – from the theatres to the galleries. Head over to the Lowry on Saturday 27th August for a taster. http://www.manchestereveningnews.co.uk/whats-on/event/lookout-its-saturday-playhouse/
·         Are you and your family excited about the up and coming Great British Bake Off? Why not visit the Octagon Theatre in Bolton where you can catch up with the winner from the last series? Nadiya Hussain will be cooking up some fresh cakes. You can catch her at the Octagon on Sunday 24th August. http://www.manchestereveningnews.co.uk/whats-on/event/slattery-afternoon-tea-with-nadiya-hussain-and-guests/
Bank Holiday Recipes
Bank Holidays give us that extra time to organise something with our families. That's why it's a perfect time to get together to share stories and good food. We've got some recipes ready for you, so get ready to get cooking… because things are about to get tasty!
·         Lamb Hotpot – this mouth-watering recipe is easy to make and is bound to keep the family coming back for seconds! http://www.creamline.co.uk/recipes/lamb-hotpot
·         Goats cheese and red onion quiche – this quiche is the perfect marriage between light fluffy pastry and luscious melted cheese. http://www.creamline.co.uk/recipes/goats-cheese-red-onion-quiche
·         Potato, Leek and Bacon Gratin – this gratin is best when crisped to perfection; it combines the rich flavours of bacon and butter with the delicate taste of leek http://www.creamline.co.uk/recipes/potato-leek-bacon-gratin-with-crispy-leek-topping
Stock up your fridge
If you need to top up your fridge or cupboard before the bank holiday, then Creamline can come to the rescue! For fruit and veg, remember to place your order on Thursday evening, for a Saturday delivery and for convenience store goods you can order up until 9pm on Friday evening.
From everyone at Creamline, have a great Bank Holiday!
Share This
Related Posts