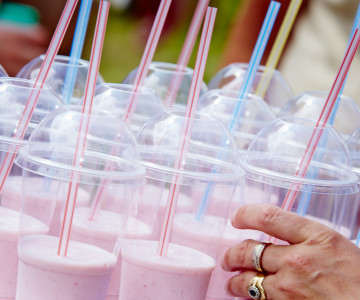 Feel the Chill this National Ice Cream Month
If you're looking for another reason to treat yourself to a delicious ice cream, then here's a scoop for you!

This week is officially the last week of National Ice Cream Month. And with this month seeing temperatures climb and sunshine beaming across the UK, it's been the perfect month for grabbing something cool.
So, here's a treat from Creamline. A perfect pick me up on a warm day, this ice-cream cooler is packed with fresh strawberries for a refreshing treat on the go.
Strawberry Ice-Cream Cooler Recipe
Ingredients
Method
Combine all the ingredients into a large bowl and mix together.
No ice-cream machine? No problem. Place all the ingredients into a large bowl and freeze the recipe for 2 to 4 hours while hand churning it every 20 minutes or so.
If you have an ice cream machine, fill your machine so it's 2/3 full and make the ice cream following your ice cream maker's directions.
To serve: remove from the freezer 20 to 30 minutes before serving, for a soft and creamy scoop.
Get cooking with Creamline & view the full recipe range here
Share This
Related Posts