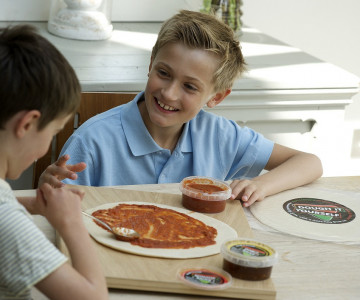 Eat up! It's National School Meals Week
It's National School Meals Week, which is all about promoting healthy food in schools and getting everyone from the local community involved. And with National Roast Dinner Day also being celebrated today, there's no excuse not to get cooking!
Over the past four years, National School Meals Week has helped keep nutrition in schools high on the political agenda, emphasising the importance of healthy eating and good quality food. Some highlights to look out for are the #cookeditmyselfie images on social media, showcasing meals rustled up by school caterers, as well as themed days focussing on different cuisines.
Of course, National Roast Dinner Day being held right in the middle of the week is yet another reason to celebrate! This event is always well-received, with schools taking the opportunity to invite the surrounding community in for a delicious roast using locally-sourced produce.
Here at Creamline, we think it's very important to support local communities and businesses, which is why we launched our Best of Local range, championing independent suppliers around the North West. If all the excitement of National School Meals Week has got you inspired, here are some recipes ideas, using delicious ingredients from our beautiful Best of Local produce.
·         Why not celebrate National Roast Dinner Day at home, with a tasty gammon joint expertly prepared by Little Pigs butchers in Didsbury?
·         Try some of our multi-seeded batch bloomer, deliciously textured, handmade by Thatcher's Bakery. Ideal for healthy sandwiches for those school lunches!
·         Of course, no healthy meal can be complete without some fresh fruit and veg. Try ours, wonderfully fresh from Manchester's Smithfield Market.
Share This
Related Posts