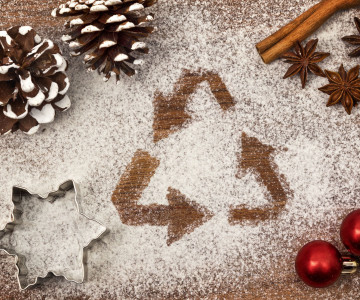 Easy ways to go green this Christmas
With Christmas on its way, many of us will be getting stuck into the extravagance of the season. However, while overindulging in food, gifts, decorations, and more is one of the many joys of Christmas, it can cause lasting damage to the environment in the new year and beyond.

The UK creates an estimated 30% more waste at Christmas than the rest of the year. Most of this waste is sent to landfill, where it decompresses and releases greenhouse gases, a major contributor to global warming.
We all have a part to play in protecting our planet from climate change; but being environmentally friendly doesn't mean our Christmas has to be any less merry! Below are some of our tips on reducing waste this Christmas:
Reduce plastic packaging by switching to glass
Approximately 114,000 tons of plastic packaging are sent to landfill at Christmas. As a Creamline customer, you can enjoy glass bottles of fresh Cheshire milk delivered straight to your doorstep: zero plastic, zero delivery charge!
Not only does switching to glass bottles help to reduce plastic sent to landfill, ordering online for home delivery also takes one thing off your to-do list this busy Christmas season!
Shop local to support the planet
From your Christmas dinner to gifts for your loved ones, buying from local suppliers is a simple way to protect the planet this Christmas. By shopping locally, you can reduce the air pollution generated by packaging and delivering your food and give your friends and family lovingly crafted gifts they are unlikely to find elsewhere.
Need some inspiration? You can shop delicious produce from local artisan partners in our Best of Local Christmas range.
Recycle your leftover food into tasty meals
If you're like us, you'll agree that one of the best things about Christmas is the food – however, with over four million Christmas dinners thrown away every year, it's important we use as much of the food we buy as possible.
If the idea of turkey sandwiches until new year fills you with dread – don't panic! You can create new, delicious meals with More Taste & Less Waste, the easy-to-use cookbook from Dairy Diary.
Share This
Related Posts