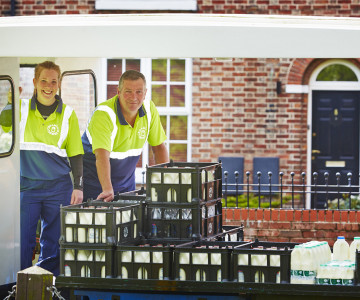 Giving thanks to all our milkmen and women this Christmas
When your Christmas doorstep milk delivery arrives in time for the big day, we hope you'll take a moment to appreciate the hard work put in by our tireless delivery staff.
Christmas is a time when everybody deserves a break - but as regular readers of our blog will know, for us that means delivering your milk early so you don't run out.
It also means our delivery staff get Christmas Day and Boxing Day off work, along with New Year's Day, so you won't be seeing us at your door on any of those days.
We're committed to making sure our delivery team get their days off - as a way to recognise and thank them for their year-round dedication to getting your doorstep milk delivery through, whatever the weather.
It's looking unlikely to be a white Christmas this year, but come rain, snow or frost, our milkmen and women will never tire when it comes to getting your doorstep milk delivery through to you.
You might spot our vans out making deliveries, or you might simply find your doorstep delivery without seeing the man or woman who dropped it off - but rest assured they are out there working doubly hard to get everyone's order fulfilled ahead of the big day, so you and your family have everything you need when Christmas morning arrives.
Merry Christmas to all of our customers, and happy holidays!
Share This
Related Posts