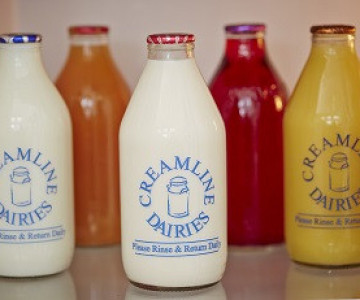 Dry January: staying on track with Creamline!
Last year, an estimated 4.2 million people planned to take part in Dry January – something many of us feel ready for after a festive period of indulgence! There are many reported benefits to taking part, and with a huge range of delicious drink options from Creamline, staying on track this month is a doddle.
The benefits
Research published in 2018 found that a month without alcohol had the below effects:
Lowers blood pressure
Reduces diabetes risk
Lowers cholesterol
Reduces levels of cancer-related proteins in the blood
Further to this, a huge 88% of participants saved money, 71% slept better and 58% lost weight! The most significant findings however showed that Dry January helped people to drink more healthily all year round, helping to reset and recharge at the start of the New Year.
Thirsty stuff!
With Creamline, you'll find more than milk! We have a whole host of quenching drink options to help you stay on track, from hitting your 5-a-day to just making the perfect brew.
As part of our milk range, we have creamy chocolate, banana and strawberry flavoured milks – a favourite with adults and kids alike. And in our trademark glass bottles, they're a guilt-free treat.
Deliciously fresh and fruity, we also stock a range of juices from apple to grapefruit. Ideal for whipping up mocktails and smoothies!
For those with a sweet tooth we have a range of your favourite fizzy pop options in glass bottles too – try Cloudy Lemonade or Dandelion & Burdock for a vintage twist.
Not forgetting those who love a good old-fashioned tea or coffee – as part of our Best of Local range, we stock Worker Bee's fresh, authentic ground coffee and fragrant tea sacks.
Stock up with Creamline this January – and don't forget that we offer free delivery on all our orders!
Share This
Related Posts