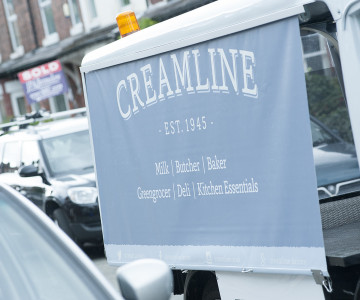 Creamline's Summer Roadshow
After the bout of unseasonably sunny weather last week, we're eagerly looking forward to summer here at Creamline. We'll be back on the road with our fully-packed summer roadshow, celebrating all things local across Manchester, from our Best of Local range to delicious glass bottled milk.
We kickstarted the Creamline roadshow earlier this month, heading to Victoria Baths for ParentFolk's Weekender. Read on to find out where else you can catch us this year!
Didsbury Festival
Falling on the 16th June, one of our first stops will be the Didsbury Festival! With hopefully better weather than last year, we'll be back with some fun family activities. Pop in to see us there and sample some of our fresh milk, some hear more about our delicious treats from Creamline's Best of Local range!
You may have also noticed us talking about our glass bottle initiative – come and have a chat with us to find out more. It couldn't be easier to cut down on plastic and choose reusable bottles with our service – and many of our customers say the milk tastes even better too!
Other Dates for the Diary!
Can't make the 16th June? There's plenty more where that came from - both before and after the Didsbury Festival. Look out for us at the following events, including some:
·        New Mills Carnival, 9th June
·        Heatons Summer Festival, 10th June
·        Altrincham Festival, 7th July
·        Wilmslow Show and Fun Day, 8th July
·        Hale Barns Carnival, 14-15th July
Keep your eyes peeled for more event announcements soon! And be sure to tweet us and let us know you're popping by @CreamlineDairy. See you then!
Share This
Related Posts