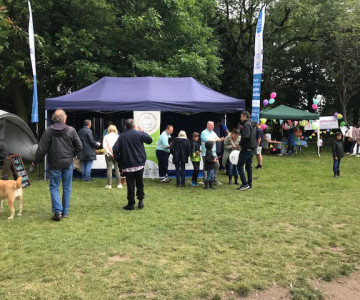 Creamline's Summer Roadshow…
The Creamline Summer Roadshow is well under way! This month has seen the Creamline team head to Cheadle Makers Market, before popping over to the Heatons Summer Festival and making their next stop at Didsbury Festival!
We've had plenty of fun so far, celebrating delicious produce from our Best of Local range, and spreading the word about Creamline's beautifully bottled fresh milk range. Thankfully there have been plenty of sunny skies, and lots of you have been stopping by for a chat and sampling our milk.
If you're thinking about signing up for our glass bottled milk, why not head down to one of our next stops below? We're offering a free trial of our fresh Cheshire milk, to show how easy it is to help reduce plastic pollution by choosing reusable glass bottles.
A great way to reduce your plastic usage, many of our customers say it tastes better too. Delivered straight to your doorstep, breakfast time couldn't be easier!
Why not try it for yourself? Stop by for a chat, and we'll get you all set up!
·         Bramhall Festival, 30th June
·         Beaver Road Family Fun Day, 1st July
·         Altrincham Festival, 7th July
·         Wilmslow Show and Fun Day, 8th July
·         Hale Barns Carnival, 14-15th July
See you there!
Share This
Related Posts