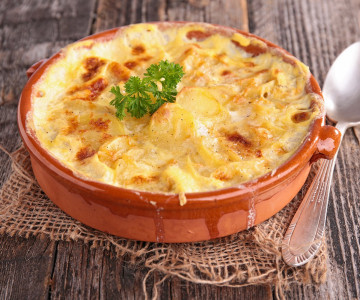 Creamline's seasonal recipe focus: Potato Gratin
If you're on a mission to cook more meals from scratch – you're in luck! Creamline has a range of recipes, perfect for friends and family. 
And the good news is that there are plenty of scrumptious vegetables at their best in January, to help keep mealtimes balanced and those winter colds at bay! From parsnips to potatoes and leeks- who says healthy eating has to be boring?
Eating seasonal produce has numerous advantages, fruit and veg usually tastes better, for example. Leeks are harvested from September through to May but are at their best in January. So, make sure your fridge is stocked up with them to reap the endless nutritional benefits;, they're rich in potassium, folic acid, vitamin C, iron, fibre and beta-carotene! 
Only the best will do for our customers so all of our fruit and veg is fresh and handpicked from Manchester's Smithfield Market. 
Read on for our go-to January recipe, which incorporates fresh, in-season vegetables and that hearty warmth that everyone craves throughout the cold winter months! 
Potato, Leek & Bacon Gratin with Crispy Leek Topping 
Ingredients
• 1.2 Kg waxy potatoes
• 25g butter
• 1 clove of garlic (peeled)
• 250g mature cheddar cheese (grated)
• 175g smoked streaky bacon cut into pieces
• 2 leeks (washed trimmed and finely sliced)
• 600ml double cream
• Salt and pepper
Topping
• 50G mature cheddar cheese grated
• 1/2 leek (washed trimmed and sliced finely)
• 50g breadcrumbs
• 15g butter
• Salt and pepper
Method
1. Pre heat the oven to 150 C
2. Take a shallow baking dish approx. 25x30cm rub all over with garlic, then grease with a bit of the butter.
3. Peel the potatoes and thinly slice (approx. 3mm thick) wash in cold water, drain and pat dry, season generously with salt and pepper
4. Fry the bacon in a heavy based pan until they are crisp and golden (drain away any fat)
5. Layer one third of the potatoes into the dish and sprinkle over half of the bacon, leeks and cheese, then add another layer of potatoes, the remaining bacon, leeks and cheese, and finish off with a layer of potatoes.
6. Pour over the cream until the potatoes are covered and dot with dabs of butter.
7. Bake for approximately 1 ½ hours until the potatoes are tender
Topping
1. Melt the butter in a pan and sauté the leeks until tender
2. Combine with the cheese and breadcrumbs, season and mix well
3. When the potatoes are tender (after approx. 1.1/2 hours) remove the baking dish from the oven.
Share This
Related Posts