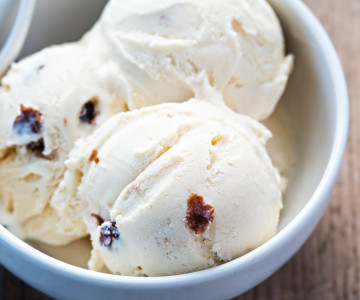 Seasonal recipe focus: Hot Cross Bun ice cream
With many of us enjoying warm and sunny weather across the north west this week, we can think of no better seasonal recipe than this Hot Cross Bun ice cream – if you have any leftovers, that is!
A perfect treat for pure indulgence, this ice cream recipe created especially for Creamline by The Cheshire Cookery School is sure to be a favourite this Easter. The best part? No ice cream maker needed!
Ingredients

4 eggs, separated
100g / 4oz caster sugar
300ml double cream
50g chocolate chips for extra richness should you choose!!
Method
Tear up the hot cross buns into small pieces and place on a baking tray. Bake in the oven until lightly toasted.

Add half of the toasted buns into the double cream and let it infuse the flavours into the cream.

Leave the other half of the toasted bun mixture to cool.

Whisk the egg whites until you have stiff peaks.

Whisk in one tablespoon of the caster sugar at a time. Continue to whisk until the egg whites are stiff and glossy.

Strain the cream through a sieve and discard the bits of bun.

Whisk the cream in a separate bowl until you have soft peaks.

Fold the cream, egg yolks and toasted cool bun and chocolate chips into the meringue mixture until well combined.

Pour into a plastic container and freeze for at least two hours - at which point you can enjoy!
Share This
Related Posts