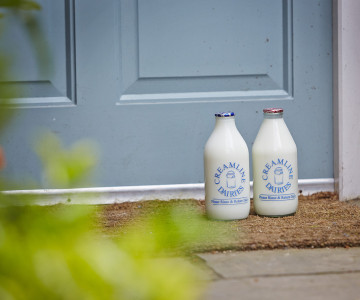 Creamline to the Rescue!
Storm Ciara has come and gone, and the sun has been desperately trying to shine on Manchester but unfortunately, Storm Dennis is on his way...
The wet and windy weather is set to continue with the Met Office issuing a yellow weather warning ahead of Storm Dennis this coming Valentine's Weekend. If you're dreading the thought of having to make the trip to the supermarket and battle your way through Dennis' menace, as always, Creamline's got you covered. You can count on us to keep the milk flowing into your copious cups of tea, the log fires burning and your tyres from skidding; all without having to step a foot outside the house!
As always, we're here to help those unable to get out and about by delivering straight to your doorstep. Stock up on all the essentials, plus a few extra bits and bobs, to ensure that you're prepared for any weather- we've got the recipe for a perfect storm!
Softwood Logs - Creamline takes the heavy lifting out of stocking up your fireplace, with these locally sourced softwood logs - available in 6kg nets - to keep your fire roaring.
Rock Salt- 10kg Bag for de-icing. Melts ice and snow fast!
Store Cupboard- From soup, to cereal to tea bags, keep your store cupboard essentials stocked up.
Remember to get your orders in by 9pm for free next day delivery on our Daily Essentials range!
Share This
Related Posts