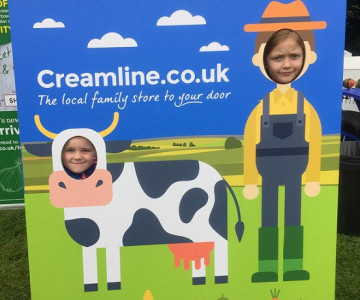 Top of the Class with Creamline
 In this week's blog post, we're celebrating all the community events we run and get involved with around the North West. We're really excited to be making an appearance this Sunday ,10th July,  at a Beaver Road PTA Summer Fun Day event in Didsbury, if you'd like to come on down then you'll be able to find us at: Didsbury Sports Ground between 2 - 6pm.  
Beaver Road PTA Summer Fun Day
There's going to be loads of fun family entertainment! Just a few things on offer at this year's Beaver Road event include: fun runs, stalls, family games, bouncy castles and some delicious food on offer – plus many more activities too!
It's not our first time at the Summer Fun Day and we had a fantastic time last year – we can't wait! For more details about the event, head over to the Facebook event page where you'll be able to mark your attendance.
The fun so far this summer
We've been having fun at a whole host of other community events this summer. Some of the other events we've taken part in include…
·         Race for Life's Pretty Mudder – seven of our staff members bravely took part in this gruelling event in Tatton Park. They ran, jumped and splashed across five kilometres of very muddy obstacles to raise money for charity – we're proud of you all!
·         The Royal Cheshire Show – two and a half weeks ago, we took part in the extraordinary Royal Cheshire Show event. We were the principle sponsors of the Main Ring and we introduced our new 'get the farmer look' board for social media snaps – which went down a treat… just like all the free samples we were giving out from our stand.
Here at Creamline, community is at the heart of everything we do and we're keen to make an appearance at events like this. So what are you waiting for? See you at Beaver Road School Summer Fund Day on Sunday, a perfect day out for all the family.
Share This
Related Posts