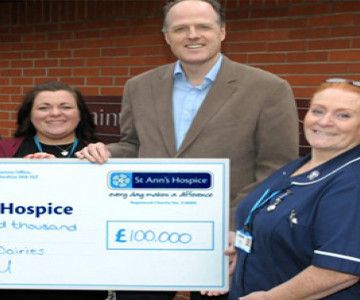 Creamline lottery: helping give back to the community and win cash prizes
Creamline's local lottery has certainly stood the test of time! Now into its third decade, the scheme was originally launched to doorstep milk customers, helping raise money for local charities and good causes.
And we're delighted to say it's still going strong – thanks to our lovely customers, who have signed up, supported local and had fun along the way.
Sign up and support local
By signing up to the Creamline lottery, you'll be helping donate money towards our principal charities, Francis House Children's Hospice and St Ann's Hospice, who provide respite, relief and support to Manchester families at the hardest time in their lives.
The money raised also helps other important initiatives, including the Salvation Army's work with the homeless in Manchester, Age Concern Salford, the Hope Hospital Brain and Spinal Injury Fund and smaller community groups and schools.
And if that isn't a big enough reason to enter, you'll also be in the running to win weekly cash prizes!
What could I win?
Half of all the ticket sales are paid out in prizes, with a weekly draw of several £100 and £50 prizes and a 10 weekly larger draw with a top £1000 prize and then a number of £500, £250, £100 and £50 prizes as well.
How can I sign up?
1 – Sign up HERE, by adding a set number of 20p lottery tickets to your weekly basket (minimum weekly order is 5 tickets)
2 - You'll be given your (hopefully!) lucky lottery numbers for the duration of your membership (you'll be billed each Friday. Head to Creamline's Ts & Cs page to find out more)
3 - Details of the lucky winners will be shared on Creamline's News page, with weekly prizes sent out in the post to the winner's registered address.
Share This
Related Posts