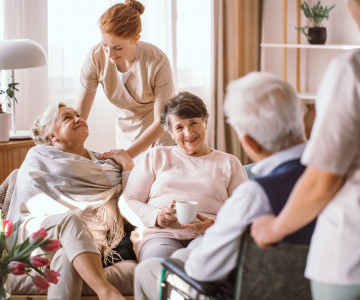 Win with Creamline's Weekly Lottery: Supporting Local Charities Along the Way
We're incredibly proud that over the last 25 years, our Creamline Weekly Lottery has collected close to £1.5 million, raising vital money to support local charities – thank you to all our customers!
If you're not already playing the lottery, now is a fantastic time to get involved, as the charities we support need your help more than ever.
With fundraising events cancelled and activity postponed, the coronavirus pandemic is already having a huge impact on charities, with many losing a significant proportion of the funding they need to deliver their essential work.
With the Creamline Weekly Lottery, you can support local charities through this difficult time and every week you'll also be in with a chance of winning a treat for yourself – after surviving these weeks of lockdown, you deserve it after all!
Who does the lottery support?
At Creamline, our community has meant the world to us for 75 years, which is why we have chosen to support local charities and initiatives. Our principal charities are Francis House Children's Hospice and St Ann's Hospice, who both provide respite, relief and support to Manchester families at the hardest time in their lives.
"Thank you so much to Creamline Dairies and their customers for your continuous support since 1994. Your support over this time has been integral to the care provided every day at St Ann's Hospice to local people at a time when they need it the most.
"The recent Coronavirus pandemic has led to the cancellation of all of our fundraising events, creating a large gap to fill. During these unprecedented times, St Ann's needs support now more than ever to continue providing essential care and support to the most vulnerable people in our community."


Megan Kemp, Corporate Fundraiser at St Ann's Hospice
Our lottery money has also helped other organisations and initiatives including Age Concern Salford, The Salvation Army's work with the homeless in Manchester, Hope Hospital Brain and Spinal Injury Fund and many other small community groups and schools.
How does the Creamline Weekly Lottery work?

The lottery draw takes place every Friday, with winners published on the news section of our website each week. Tickets are 20p each, with a minimum weekly order of five tickets and maximum of 50 tickets (£10).
Half of all ticket sales go into the prize pot with a number of £100 and £50 prizes to be won each week. Every 10 weeks we have a large draw with a top prize of £1,000 and a number of £500, £250, £100 and £50 prizes as well.
Entering the Creamline Weekly Lottery is quick and simple – you pay through direct debit and manage your entries online.
You can find more information and answers to our frequently asked questions here.
Thank you for supporting local charities at this difficult time, and good luck in the draw!
Share This
Related Posts