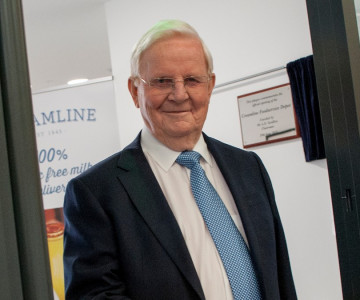 Creamline chair Tony Swallow awarded OBE in New Year Honours List
We are incredibly proud to announce that Creamline Dairies' chair Tony Swallow has been appointed OBE in the New Year Honours list, for his services to young people and the community across Cheshire and abroad.
Tony spent his working life in the dairy industry and bought Creamline from its founder Peter Roe in 1994. In the 28 years since, Tony has supported the community through philanthropy: in 2006, he founded the Swallow Trust with his wife Helga, which supports charities in East Cheshire, Macclesfield, and overseas with education and employment opportunities, with the aim of improving their mental wellbeing.
Tony's endeavours also include co-founding the Cre8 Macclesfield Youth and Community Programme, which has supported young people in Macclesfield to actively engage in their community.
Tony's dedication to supporting the local community is at the core of Creamline's values and role in the community. Working with Cre8, Creamline is providing opportunities for NEET (not in education, employment or training) young adults who are employed to jet-wash its fleet of delivery vehicles. The Creamline Lottery, which has raised money for charities across the North West for over 20 years, and the recent Deserving Doorsteps competition are also testaments to Tony's spirit of philanthropy and community.
Reflecting on the news of his appointment, Tony said:
"It's been a privilege to have the opportunity to give back to the community in this way and I'm immensely proud of the incredible things the charities we've worked with over the years have achieved and the real difference they have made to young people's lives."
Chris Swallow, joint manager at Creamline and Tony's son, also reacted to the fantastic news:
"All of us at Creamline are extremely proud of Dad's generosity, passion and dedication being recognised with his OBE appointment. For over 75 years, Creamline has been an integral part of the local communities we serve and as a family-run business Dad's philanthropic spirit still runs through everything we do here."
Congratulations, Tony, from everyone at Creamline!
Share This
Related Posts