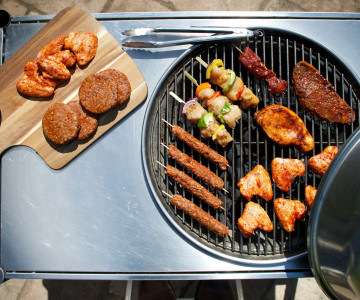 Crack out the barbie for National BBQ Week!
National BBQ Week returns this week for the 22nd time, the time of year when many of us will be heading to the shed or garage to release our barbecues for the summer months! Something many of us associate summer with, BBQs are a national phenomenon in the UK, from back gardens to pubs across the country!
Popular though they are, barbecues can be tricky to get right. In this blog post, we've got some advice to help you host a sizzling barbecue – so get fired up!
Our top tips
·        Make sure you've got the right barbecue. Our recommendation would be a charcoal one, as this way you get all the delicious smoky flavours in your food.
·        Marinade properly. For a barbecue, meat or fish will need to be left to marinade for longer than usual, to ensure that you don't lose flavour to the smoke.
·        When barbecuing vegetables, we suggest grilling without oil or seasoning – once cooked, then add dressing!
·        Let your food come to room temperature before barbecuing, if kept in the fridge. This will avoid the outside burning before the centre is cooked.
·        Always make sure to use separate plates for raw and cooked meat, make sure all meat is cooked through and wash your hands thoroughly before and after handling raw food!
Stock up
Now you're all set to host your summer barbecue, why not get stocked up with some of our delicious produce from our Best of Local range? Hand-prepared by Little Pigs Didsbury, the range includes prime beef burgers, buffalo chicken wings, kebabs and Cumberland sausages, all barbecue-ready. You'll need some bread for your meat, so look no further than these white fluffy barms, baked by Thatcher's Bakery. Just add the mustard and relish, and you're ready to go!
Happy barbecuing – here's hoping the weather holds out…
Share This
Related Posts