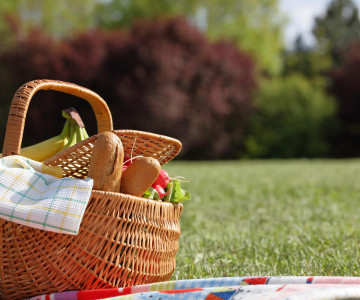 Take your pick of the finest local produce for National Picnic Week!
Picnic season is in full swing. Saturday 18th June marks International Picnic Day while National Picnic Week spans from 18th-26th June – us Brits just love a good picnic. To celebrate, we've compiled a few popping picnic ideas featuring delicacies from your favourite local producers.
But first, where does this staple summer activity come from and why is it so popular? The term picnic comes from the French word pique-nique, deriving from the verb piquer which means to 'pick' or 'peck', while nique means 'things of little importance'. Unsurprisingly, then, picnics were first enjoyed in France – and coincide with an important moment in history! After the French Revolution, the public were let into royal parks for the first time, birthing the beginning of nibbles in the park as families flocked through their gates.
Fast forward to the Victorian era and picnics were often a form of escapism from the restrictions and etiquette of everyday life, though they have also been noted for their elaborateness. A picnic for twenty people may have included an array of meat from lamb, veal, chicken, ham, and pigeon pie, accompanied by cold salmon, sandwiches, a variety of cheeses, fruit, and plenty of baked food!
The modern-day picnic may be much less elaborate. However, with these delicious picnic delights, we're keeping it local like the picnickers of the 18th and 19th centuries!
Artisan cheese truckles
Picnics aren't complete without cheese. According to National Picnic Week, the most popular picnic snack fifty years ago was the humble cheese sandwich, but now it's a bag of crisps! However, these artisan cheese truckles crafted by The Cheshire Cheese will go a long way in impressing on the picnic blanket. From traditional creamy Cheshire cheese and award-winning caramelised onion & Rioja truckles to El Gringo chilli, lime & tequila and more, there's a cheese truckle for everyone. Be sure to pair your cheese with a chutney to tick all the boxes.
Thatchers' lovingly baked goods
Barms, barms, barms – they're an overlooked element in the picnic basket. Choosing good quality bread can make all the difference to your sandwich. Look no further than Thatchers' oat top malted barms, brown barms, white barms and smaller kids barms!
Thatchers' lovingly baked goods don't stop there. To add to the fun, we've included Thatchers' sweet treats in the picnic delights range. Indulge in flapjacks, Bakewell slices, choc shortcake slices and more… You don't want your sticky toffee slices melting in the heat, so make sure to prepare with a cooler bag. The Creamline cooler bag is perfect for keeping your milk deliveries cool over the summer months and doubling up as a picnic bag.
Fresh fruit and veg salads
Now your picnic basket is rivalling that of Ratty's in Wind in the Willows, finish off with a fresh fruit or vegetable salad. If you're looking for high quality, locally sourced fruit and veg to get in your 5-a-day, our picnic delights range has got you covered with delicious seasonal picks. 
Share This
Related Posts