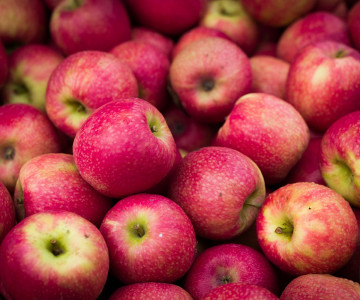 Core! It's National Apple Day
Monday 21st marked National Apple Day here in the UK, a date where museums, galleries, horticultural societies and many more gather together to celebrate the humble fruit. Initiated by Common Ground, a charity that raises awareness of the relationship between nature and culture, Apple Day extends to a general celebration of provenance and traceability in our food produce.
Apple Day: A History
The very first Apple Day event was held in Covent Garden, London 19 years ago and its popularity has grown hugely since then! In 2000, there were over 600 events held in the UK and today some even attract thousands.
Common Ground also use the day to raise awareness of apples and orchards more generally and of their importance to British landscape and culture, as well as the value of traceability – something we're right behind at Creamline!
Upset the apple cart? Stock up with Creamline!
Our Best of Local range is all about bringing the food you love from independent shops and suppliers right to your doorstep. With free delivery, you can enjoy a whole range of delicious produce from Manchester and Cheshire's finest local producers. Order in from our Greengrocer range and tuck in to a host of fresh produce from Manchester's Smithfield Market this Apple Day:
And the best news? All of the above are completely free from plastic packaging. How do you like those apples?
Share This
Related Posts