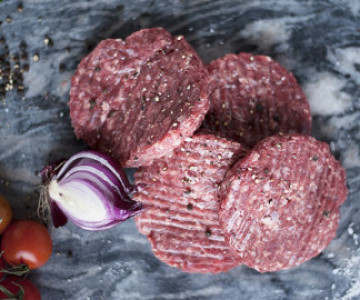 Cheese to the Left of Me, Gherkins to the Right… It's National Burger Day!
We're celebrating National Burger Day this week in the UK and as a result we're going to dedicate this blog post to all things burgers. We'll be covering the history of the humble burger and how it went from the grill to all around the globe. We'll also include details on where you can get your hands on some of our Best of Local burgers – or if you're feeling adventurous, make your own.
The Beginnings of the Burger
The history of the burger is widely disputed, a whole host of different people and parties "steak" claim to the invention of this culinary delight.
However, before we examine where the burger came from; we must first define it. George Motz, the author of the award-winning Hamburger America guide – who as you can imagine is somewhat of an authority on the subject; defines the hamburger as minced beef that has been cooked and placed on bread.
The earliest reference to the burger goes all the way back to the Mongol Empire in the 13th Century, it is claimed that riders on horseback carried slabs of raw beef under their saddles. Whilst riding, it was said that the beef became squashed and tenderised – resembling a burger, which was later eaten on bread.
Moving into much more recent history, it's said that today's hamburgers were invented in either the late 19th Century or early 20th Century in the USA. Some say that they were invented by the aptly named Louis Lunch, at his Connecticut diner, for a man looking for a meal in a hurry. Others claim that it was Charlie Nagreen of Wisconsin, who after finding that his meatballs were not selling due to their lack of portability, squashed meatballs and placed them between two slices of bread.
Bring the Burgers to You!
If you fancy making your own burgers at home, then you're in the right place. Here at Creamline, you won't even have to leave the comfort of your own home to get all the ingredients you need.
Just head over to our Best of Local butcher section, where you'll find packs of four beef burgers -made from selected cuts of locally sourced prime beef mince, with just a touch of salt and pepper to bring out the flavour of the meat.
If you want to try making your own burgers, then we've got the perfect pack of minced steak – made from only prime fillet and sirloin cuts, all sourced locally in Cheshire. Follow this BBC Good Food guide to make you own. See here for additions like the burger buns, sauces or cheese from our online store.
Share This
Related Posts