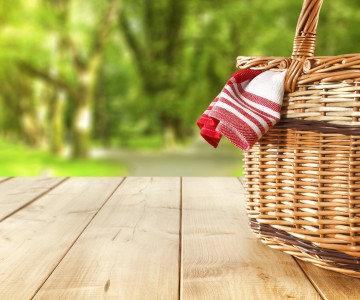 Don't Be a Few Sandwiches Short... It's International Picnic Day!
Some people claim that life's not a picnic but on Sunday 18th June it certainly is! The day marks the celebration of meals eaten outdoors anywhere, as part of International Picnic Day; whether they're accompanied by a scenic landscape, an outdoor concert or enjoyed in the local park. Read on for some fun facts and our recommendation for packing the perfect picnic hamper. All you need to do is watch out for Yogi Bear!
Picnic Facts
·        People have been picnicking for a long time but when is a picnic a picnic and not just eating lunch outside? There's no set definition but most agree that a picnic should include a rug to sit on… or lie on, depending on how filling the picnic is!
·        After the French Revolution of 1789, royal parks were opened to the masses for the first time ever. To celebrate their new freedom, many French families set about picnicking in these beautiful parks.
·        In the early 1800s, a fashionable group of Londoners formed the Picnic Society: each member of the society would provide some sort of refreshment and entertainment at every picnic, with no one specific host.
·        Picnics have been used as a form of political protest: in 1989, the Pan-European Picnic was a large-scale picnic designed to peacefully protest the Iron Curtain and move towards the reunification of Germany.
The Perfect Picnic
Impress your friends, family or just passers-by that just won't be able to resist peeking at your picnic, with our picnic plan. Read on for more….
·        Pick your Basket Wisely– before you get started your food prep, be sure to choose the right packaging: a traditional picnic basket might look the part but a cooler box is going to keep your contents the most chilled. Think too about transporting salad separately, after all – nobody wants a soggy sandwich!
·        Plan for Portability – there are many tasty foods out there but some are much easier to transport and eat outside in nature. Think about how easy it'll be to transport your goodies, whether they'll taste good cold and if they're going to easy to eat with limited cutlery. There's a good reason why sandwiches, pies, Scotch eggs and chicken drumsticks are picnic favourites whilst spaghetti and curry aren't.
·        Theme Your Picnic – Jamie Oliver has put together some great themes that provide great centring points for your picnic. There's plenty of options including a traditional British picnic, an American style basket, a meat free option and a family friendly option for those with younger children.
If you're looking for high quality, locally sourced ingredients for you picnic – look no further. You can get the parts for the perfect picnic in our Best of Local range.
Share This
Related Posts