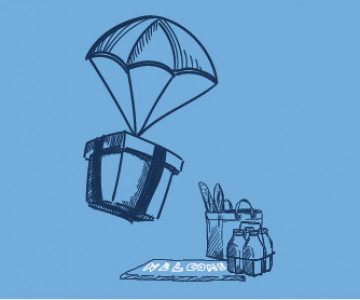 Congratulations to our 10 Deserving Doorsteps
Before Christmas, we asked you to help us choose ten Deserving Doorsteps to receive free milk and essentials this winter. Entries came in thick and fast, and choosing our winners wasn't an easy task: so many of you wrote to us with wonderful nominations.
However, we are delighted to be able to announce our ten Deserving Doorsteps for 2022 and those who nominated them. A huge thank you to everyone who took part. We hope you'll join us in congratulating these worthy winners!
Here are some snippets from the nominations:
My little boy has chronic lung disease and has been shielded throughout the pandemic. Gemma brought us food and medical supplies when we were unable to go out because of the risks.
Gemma, nominated by Gill
Alison helped me when I was shielding and met for a chat every week. Following a road accident, she has done my bins, walked my dog and generally made sure I had everything I needed. Such a lovely neighbour.
Alison, nominated Patsy
Wayne has raised well over half a million pounds for charities and community groups. During Covid, he sang non-stop for 24 hours to raise money for Alzheimer's Society, raising £90,000. He is a pillar of the community here in Trafford.
Wayne, nominated by Martin
Emma volunteered as a Samaritan all through university, and now works as a suicide prevention adviser and manages the national helpline for Papyrus. She always puts other people first and never thinks of herself.
Emma, nominated by Diane
Dan and his partner, John, have worked so hard throughout the pandemic to keep people safe and healthy. Dan has been organising Covid testing for people in Bury and John works in the ICU caring for the poorliest of patients, with and without Covid.
Dan and John, nominated by Rosie
Abi and Freddie have collected litter on the way to school. They bought litter pickers with their own birthday money.
Abi and Freddie, nominated by David
She does so much for all her family, and we would like something good to happen to her for once.
Carmel, nominated by Stella
Carol cares for her husband, who had a stroke 16 years ago. She works so hard to make sure his needs are met 24/7.
Carol, nominated by Shellie
My stepson was my lifeline during lockdown as I was shielding. He did my shopping as well as working full time throughout. He even sent round Sunday teas!
Ben, nominated by Alison
An incredibly generous and relentlessly positive character whose work involves raising money for a local children's charity and whose spare time is spent helping others and spreading joy.
Jure, nominated by Gavin
Thanks again to everyone who got involved; your nominations were truly heart-warming!
Share This
Related Posts