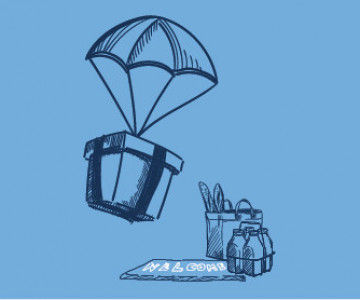 There's still time to nominate your deserving doorsteps!
Christmas is over and the decorations are coming down. It's back to school or work, and the days are still cold and dark. With all this in mind, it's easy to understand why so many of us feel blue in January.

If you're feeling the post-Christmas blues, then fear not – there's a simple way to bring some joy to your new year. Research has suggested that being kind to others can actively make us feel more happy. So, if you need a bit of inspiration for a good deed to perk you up, why not nominate someone you know as a deserving doorstep?
Originally launched for January 2020, deserving doorsteps is open to all in the Creamline community, and an opportunity to celebrate or thank the people who made your year. Last year, we had some excellent nominations, with our deserving doorsteps featuring NHS workers, good neighbours, and hardworking parents:
"Karlee is an ICU nurse. Since the start of the pandemic, she took on many long night shifts to look after COVID patients."
Karlee, nominated by Jonny
"She is an amazing mum who is having a hard time through no fault of her own. Her children come first, and she regularly goes without."
Maria, nominated by Julie
"Mrs McGrory walked my dog morning and evening six days a week for several months as I became disabled."
Mrs McGrory, nominated by Joseph
We're delighted that we'll be delivering free milk and essentials to 10 deserving doorsteps across Greater Manchester and Cheshire again this January. Each doorstep will receive four weekly deliveries, each worth £25.
So, if you know someone who always goes out of their way for friends, family or neighbours, someone who cares for their community, or anything in between, nominate them as a deserving doorstep today.
Since launching deserving doorsteps in December, we've received some fantastic nominations, but there is still time to nominate a friend, family member or neighbour you believe deserves a kickstart to their 2022.
Nominate your deserving doorsteps by Monday 10th January. We'll announce the 10 deserving doorsteps the following week on Monday 17th January – to remedy this year's Blue Monday!
Head to the link here to give us your details and let us know who you'd like to nominate and why.
Terms and conditions
1 The 'Deserving Doorsteps' competition is open to UK residents over the age of 18 who nominate someone else to be chosen as a recipient of free deliveries from Creamline.
2 Ten winners will be selected by members of Creamline's senior management team. Each winner will receive four weekly deliveries of Creamline products, each worth £25. Products will be selected by Creamline, taking into consideration any allergies or dietary requirements made known to Creamline when requested. The prize cannot be transferred, and no cash alternative is available.
3 The person nominating each winner will be contacted to notify them of their successful nomination. They will need to contact their nominees and ask them to contact Creamline to share their delivery and contact information for the purposes of making the deliveries. Creamline reserves the right to select an alternative winner(s), in the event of reasonable efforts to contact the original winner being unsuccessful.
4 Delivery of the prize must be made to a property within Creamline's delivery catchment area.
5 Creamline reserves the right to withdraw or deactivate the promotion for any reason, at any time, or to suspend deliveries or any account or delivery location on the bases outlined in its terms and conditions generally.
6 The winner must agree not to sell, offer to sell, or use the prize for any commercial or promotional purpose (including placing the prize on an internet auction site).
7 The name, town and photograph of the winners may be used by Creamline for post-event publicity purposes. The winner agrees to comply with a reasonable request to provide a photo of themselves with their prize and to allow Creamline to use their name and likeness for advertising and publicity purposes without additional remuneration.
8 By sharing images and tagging Creamline, you are granting Creamline the rights to use your image for sharing on its social media channels, without remuneration.
9 The set closing date for this promotion is 10th January 2022. This may be altered by Creamline at any time.
10 Entry implies acceptance of these terms and conditions.
Share This
Related Posts