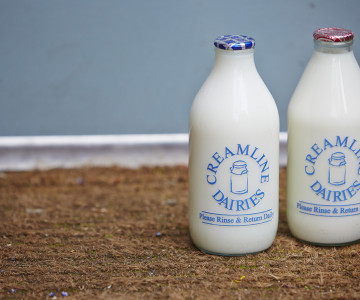 Stay safe and warm with winter milkman delivery
With October ending on the warmest Halloween in history, it might seem strange to be talking about milkman delivery in terms of cold temperatures.
But this winter, milkman delivery has an important part to play in keeping people safe - particularly the elderly.
We have reported before about doorstep milk delivery's part in the Department of Health's Cold Weather Plan, but it's worth repeating as we head into November.
First of all, doorstep milk delivery is potentially a literal lifesaver for the elderly in the winter months, as milk deliveries continue even in conditions that might prevent OAPs from leaving their homes.
And those same milk deliveries can sound the alarm bells if anything should happen to the occupants of the household.
Councillor Izzi Seccombe, chair of the Local Government Association's Community Wellbeing Board, says: "Whether it be milk bottles left outside, newspapers stuck in the letterbox or curtains drawn all day, any sort of unusual activity could be a sign that something is wrong and that someone is in need of help."
After the mild weather of recent weeks, this winter is likely to feel very cold indeed - but milkmen and milk deliveries alike will continue to play their part in helping residents to stay safe and warm indoors.  Have a read of milkman George Jones profile in our "Meet Us" section where he talks about his experience helping elderly customers.  
Share This
Related Posts