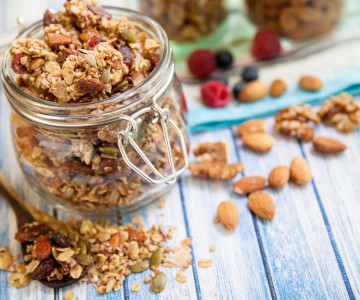 Brighten up your breakfast with new Thatcher's Bakery treats!
The eagle-eyed amongst you may have spotted some delicious new additions to the Thatcher's Bakery range in our Best of Local section.
As well as a hearty helping of indulgent sweet treats like Chocolate Shortcake Slices and Lemon Loaf Cake, Thatcher's have perfected a range of baked breakfast goods that are sure to transform your everyday breakfast.
One for the pastry connoisseurs! After perfecting their croissants, pains au chocolat and Danish whirls the Stockport bakers have introduced a flaky and irresistibly buttery pain au raisin, packed with sweet fruit. Ideal for grabbing on the go if you have a busy morning.
When you're tired of toast and all crumpeted out, only a bagel will do! These authentic deli-style bagels have a delicious chewy centre and can be enjoyed with a range of delicious toppings. Try sliced banana and peanut butter for a boost of healthy fats, or Mrs Darlington's Strawberry Jam for a sweeter start to the day.
Something a little different from Thatcher's, the bakers have outdone themselves with this nutty delight! Packed with almonds, walnuts, pecans and seeds, the granola can be eaten with creamy yogurt or a chilled splash of our glass bottled milk. Try a handful of fresh berries for a real treat – and one of your 5 a day!
Share This
Related Posts