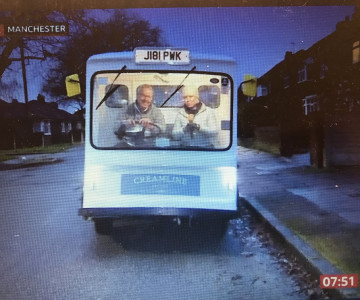 BBC Breakfast Show: Creamline hits the headlines once again!
Did you spot the Creamline team on the BBC Breakfast Show last week? Andy Partington was out on the rounds in Urmston with presenter Danielle Hewson, and even MD Chris Swallow got behind the wheel too! Following the news of a 7% increase in milk deliveries, the BBC team went behind the scenes with Creamline to find out why people are making the switch back to glass bottled milk and to talk all things plastic pollution.
It's no secret that we work hard here at Creamline to help reduce plastics – one glass bottle at a time! We've seen over 16 million glass bottles delivered to homes and businesses since March 2018. This has saved a whopping 293 tonnes of plastic from being dumped in landfills!
There was more big news this year as we launched our online plastic free aisle, where it's easy to see which items aren't packaged in plastic. In 2020 we'll be working closely with our suppliers to make sure even more items are added to this plastic free range.
Having just hit 10,000 online customers, it's onwards and upwards! Remember that customers can now register online with us here for easy ordering and payment.
Share This
Related Posts