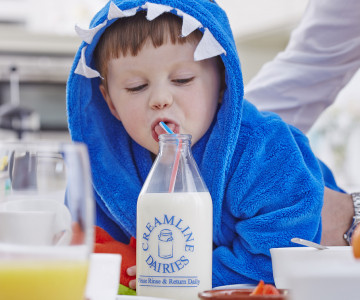 Back to basic Brits reach for the bottle milk
It's no secret that bottle milk contains lots of things that are good for you - and calcium is the first thing many people would name.
But protein is also making a comeback in many people's dietary priorities, and that is helping to put bottle milk more firmly on the menu in many households too.
According to consumer analysts Mintel, 86% of all UK consumers recognise the importance of protein in order to stay healthy.
The dairy industry is responding to this, with 11% of new high-protein products in 2013 coming from the dairy industry, and a fifth of those launched in 2014 through until the end of July.
But ordinary bottle milk is already a good source of protein, containing both whey and casein, which together are beneficial for muscle building and recovery after exercise.
And milk at breakfast time makes sense too - almost two thirds of those surveyed by Mintel (63%) said they agree that protein is a good way to feel fuller for longer.
That makes protein-rich drinks a useful way to stave off hunger, and consuming them earlier in the day makes for a good balance, Mintel conclude.
Share This
Related Posts