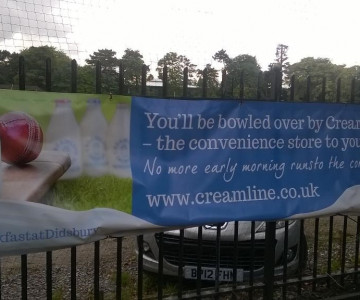 Another local milk delivery from Creamline
At Creamline we're proud of how our local milk delivery puts us at the heart of your community - so it's always great when you spot us in your area.
Huge thanks to Didsbury Village resident Jane Arschavir, who sent in this photograph of our banner at Didsbury Cricket Club.
Jane was out for a walk with her son when she noticed the banner and, recognising the Creamline name, stopped to take a quick snap for us.
We're really pleased Jane took the time to take the photo - and it looks like typical Didsbury weather in the background, too!
Thanks to our local milk delivery in Didsbury, there's no need to head out to the shop at the crack of dawn, and with Manchester's notoriously changeable climate, that can only be a good thing.
Have you seen us in your area? Whether it's a poster, one of our delivery vans, or members of the Creamline team at a local event, we'd love to know where you've spotted our name.
If you manage to grab a photo, please send it in to us, or tweet it with the hashtag #ManchesterMornings to join in our social conversation.
Share This
Related Posts