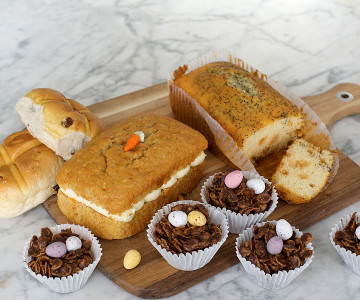 All you need for a family feast this Easter
Although the weather may be telling a different story, spring has arrived, and Easter is on the horizon! With Easter time being the perfect occasion for a family gathering, we've got some delicious new produce as part of our Best of Local range, to help make your festivities extra special.
Easter traditions around the world
British Easter celebrations tend to be food-centric, but traditions in other countries vary widely! We're taking a look at how people around the world celebrate this time of year:
·        Sweden – children dress up as Easter witches, and wear colourful headscarves, going from home to home swapping drawings for sweets!
·        Greece – on Holy Saturday, Greeks take to smashing their pots and pans, by throwing them out of their windows. The symbolism of this tradition is much-debated, with some saying it welcomes spring, and others arguing that it derives from an old Venetian tradition.
·        Poland – a refreshing tradition! Boys try to drench water over each other on Easter Monday, and legend has it that girls who get splashed will marry within the year.
·        Bulgaria – another food-centric celebration, but not quite as we know it in the UK! Egg fights are popular Easter celebrations – and whoever comes out of the game with an unbroken egg is the winner!
Creamline's Easter Fayre
If you're planning a family get-together, look no further! We have a spectacular new range of Easter fayre, all local produce delivered straight to your doorstep.
Why not tuck in to one of our traditional Lamb Special packages? Either whole or half leg, these packs come complete with a jar of Mrs Darlington's Mint Sauce. To round off the meal, we've got an indulgent carrot loaf cake – or alternatively, some crispy chocolate nests, sure to go down well with little ones! And of course, no Easter celebration is complete without the traditional Hot Cross Bun – deliciously spiced and handmade by Thatcher's Bakery.
Delivery times
We'll be delivering on Good Friday and Saturday, so to get your delicious produce in time for the weekend make sure you order by 5pm Thursday 29th. It will then be business as usual on Tuesday 3rd, after the Easter break.
Share This
Related Posts