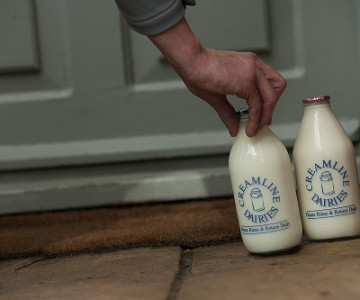 The final countdown… All you need to know for the festive period
The final preparations have begun – there's no mistaking it, we're on countdown to Christmas! Even for the most organised of us however, there are often one or two things that have been missed – that's where Creamline is here to help.
Avoid the supermarket queues and let us do the heavy lifting – you can still order from our spectacular Christmas range, as well as our festive confectionery. Don't forget any last-minute Daily Essentials too! We'll be delivering over the Christmas period on the dates below…
Any final Best of Local orders should be confirmed by the 23rd December for our final delivery date on Christmas Eve.
Following this, the next Daily Essentials delivery date will be Friday 27th December.
The next Best of Local delivery date will be Saturday 28th December. Excluding fish - these deliveries will be back to normal from Tuesday 7th January (to make sure it's only the freshest of fish. Subject to the delivery date in your area).
Delivery for both Best of Local and Daily Essentials will be as normal on Monday 30th & Tuesday 31st December.
Best of Local deliveries will be back to normal (excluding fish) on Friday 3rd January.
To view your individual orders and December delivery days, please visit My Account. If you need to contact your local depot, you can find the details here – see when the team is available below!
Need a hand?
If you have a query about your orders, our customer service team will be happy to help! Find out when they'll be on hand below:
Christmas Eve – open from 8am until 2pm

Christmas Day & Boxing Day – closed

Friday 27th December – open as normal, from 8am

Saturday 28th December - open as normal, from 8am
Sunday 29th December – open as normal, from 8am
Monday 30th December – open as normal, from 8am

New Year's Eve – open from 8am until 2pm

New Year's Day – closed

Thursday 2nd January – normal service resumes!
Share This
Related Posts