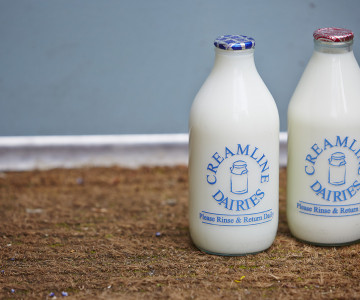 Alan's 20 years of doorstep milk delivery come to an end
We always like to recognise the heroes of doorstep milk delivery up and down the UK, and Alan Luffrum's story is one that caught our eye this New Year period.
Alan is 66 and due for retirement, and the Torquay Herald Express reported on the very last doorstep milk delivery in his 20-year career.
Unusually for the modern day, Alan followed in his father's footsteps and, more unusually still, his own son has also become a milkman.
The challenge of delivering milk in South Devon is quite different from our own rounds in Manchester, where many people live in a fairly close area.
Instead, Alan's typical day began at 10pm, with his first pint of bottle milk left on the first doorstep around midnight.
By 9:30am, Alan would have covered as much as 45 miles of South Devon countryside, leaving milk and groceries on doorsteps across the region.
He told the Herald Express: "I've loved my years being a milkman. My customers are more than just customers to me and I enjoy being part of the local community."
This was perhaps never more evident than when Alan became a local hero after alerting ambulance crews to an elderly customer who had fallen and banged her head - proof that your local neighbourhood milkman could prove to be a lifesaver someday.
Share This
Related Posts