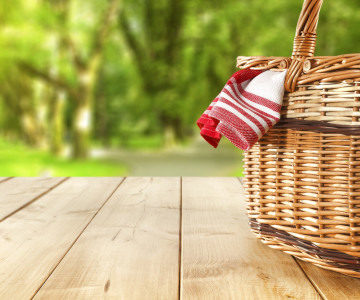 Afresco dining this National Picnic Week
Summer may be a little late here in the north west, but that's no reason to forgo National Picnic Week! Kicking off this Friday, it's all about sharing picnic tips, your favourite locations and generally celebrating being outdoors over the Great British summer.
The tradition of picnics goes way back to medieval times – usually a pastime indulged in by the very wealthy, an outdoor feast was often held after a long day of hunting for example! Picnicking is generally attributed to European culture, with the word 'picnic' deriving from the French 'pique-nique', a word for individuals who brought along their own wine when dining out. During the Victorian era, picnics became less a tradition of the wealthy and started to gain popularity among the working classes too.
Preparing for a picnic
Prepare your spread carefully. It's a good idea to have a quality cooler filled with ice or cool gel packs that you can store cold food in whilst on the move.

Make sure all tubs are sealed properly and food wrapped securely – rain isn't the only way to dampen a picnic outing!

Do all your chopping, slicing and cutting at home, to make filling your plate as easy as possible once you spread your blanket.

Choose reusable cups, glasses and cutlery – one of the easiest but most effective ways to make your picnic that little bit greener.
Stocking up with Creamline
We have some fabulous original recipe ideas crafted by GBBO's Luis Troyano, which make perfect additions to any picnic spread. Choose from Smoked Salmon Scones, Asparagus & Pea Quiches, Strawberry Shortcakes and more!
If you fancy simply ordering in some tasty treats, our Greengrocer section is bursting with beautifully fresh fruit and veg. Don't forget Thatchers Bakery's hand-crafted loaves and sweet treats, as well as a huge range of juices, flavoured milks and fizzy drinks in our Daily Essentials range.
Fingers crossed for sunshine!
Share This
Related Posts