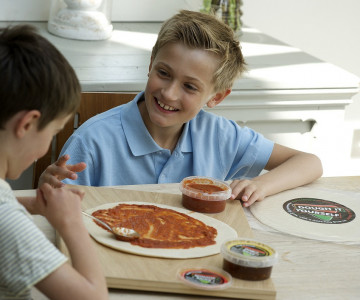 A Mother's Day to remember…
Mother's Day falls on Sunday 11th this week, and Creamline are here to help make it a special one. Whether it's one of our Breakfast in Bed packs, or a homemade recipe, we've got some delicious offerings for Mum.
Mum's the word
So why do we celebrate Mother's Day, and what's special about the 11th March? This is the fourth Sunday of Lent, exactly three weeks before Easter Sunday, so the date changes every year. Originally, this was a day for Christians to return to their mother church – the church they were baptised in, or the principal church in the region.
As time went on, it became tradition for servants to be given a day off to visit their mother church, usually with their own mothers and family members. This was a special day, as servants were not often granted days off, and so opportunities for families to get together were few and far between.
The story goes that children and servants would pick wild flowers on their way to the mother church, to give to their mothers – eventually evolving into the modern tradition of Mother's Day.
Treating Mum
What better treat for Mum than a special breakfast in bed package, delivered straight to your door? The delicious ingredients include;
2 freshly baked pain au chocolats by Thatcher's Bakery
2 Ann Forshaw farmhouse yoghurts – lemon zest and damson & plum
1 pint of semi-skimmed milk, in a traditional glass bottle
250g of beautifully rich Ellanos Italian ground coffee
Be sure to place your order by 9pm on this Friday 9th, for delivery Saturday 10th – just in time for Sunday.
Share This
Related Posts