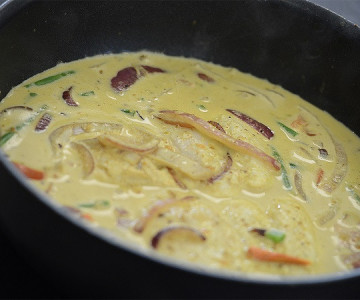 A Cracking Creamline Recipe for Christmas Leftovers
Whilst Christmas might be filled with gifts of many kinds, there's one that just keeps giving and giving: Christmas dinner. We're all guilty of going overboard on the day, making enough food for a small village – rather than just the family and friends we need to cater for.

Helping you get creative with your Christmas leftovers, we share our brand-new recipe, straight from the kitchen of chef Nigel Brown.
Transforming your leftover turkey!
Your Christmas turkey might not look quite so appealing after the big day has passed but don't fret, we've got a sure-fire way to get that forlorn bird out from under its tin foil covering in the fridge and back into the light of day… with a bang! Our tasty turkey leek and mushroom pie is a deliciously buttery treat, perfect for the lazy twilight days before the new year lands.
Turkey leek and mushroom pie
Ingredients
2 tbsp vegetable oil

500g Turkey breast, diced

2 leeks, washed and thickly sliced

150g button mushrooms, cleaned and quartered

Sprig of thyme, leaves

15g butter, plus extra for greasing

1 tbsp plain flour

300ml semi skimmed milk

1 chicken stock cube

Black pepper, to taste

500g Pack ready-made puff pastry

30ml milk or beaten egg for glazing
Steps
Preheat the oven to 220C/Gas mark 7.

Heat the oil in a frying pan and brown the turkey.

Add the leeks, mushrooms and thyme leaves and fry for about 10 mins until softened and slightly caramelised.

Meanwhile make a white sauce: melt the butter in a small saucepan and add the flour, stirring well with a wooden spoon to make a paste.

Cook for 1 min. Pour over the milk a little at a time, whisking continually until you have a thick sauce.

Crumble in the stock cube and season with pepper to taste.

Mix the turkey mixture with the sauce and pour the filling into a deep pie dish. Grease the edges of the pie dish with a little butter.

Roll out the pastry and transfer to the pie dish to make a lid.

Trim the pastry from around the edges and press down to seal. Brush milk or egg over the pastry to glaze it.

Prick it with a fork and place in the oven for 15-20 mins. The pastry should have risen and be golden brown when you take it out. Allow the pie to stand for 5 minutes before serving.
Share This
Related Posts