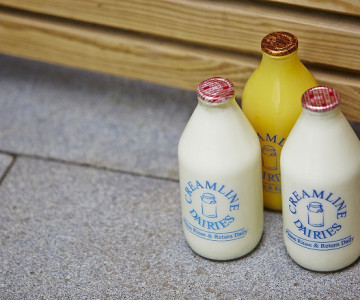 2018 – the year of being green
With the Latte Levy hitting the headlines and Theresa May's pledge to reduce plastic use, being greener is something more and more people are conscious of – but how can we do this effectively? Doing your bit for the environment doesn't have to mean huge changes. Small steps can make a big difference – here at Creamline, we've got some helpful tips to get your 2018 off to a green start.
At home
Often small changes around the home are a good place to start. We all know that leaving the fridge door open and running half-empty washing machines aren't great ways to save energy, but there are many little-known tips that can help make a big difference. Did you know that you should only fill three quarters of your fridge, to let cool air circulate? And that opening your curtains through the day, but closing them at night can help insulate your home?
Recycle
This may seem obvious, but with certain local authorities in England only recycling 15% of their waste, there is some way to go. Many people are recycling incorrectly, or not recycling at all. Found in the recycling when they shouldn't be, the worst offenders are nappies and polystyrene! Our top tip for making your recycling go further, is to go the extra mile and take anything that can't be recycled in your domestic bin to your local recycling centre.
Shop wisely
Being aware of the type of packaging your food and drink comes in can make a huge difference. For example, here at Creamline our fruit and veg range handpicked from Manchester's Smithfield Market is packaged wherever possible in paper bags, as we work towards a plastic-free range for the future. You can also choose glass bottles for your milk - simple ways to avoid plastic! Another thing to bear in mind is where your food comes from. Choosing locally-sourced produce reduces your impact on the environment – and has never been easier, with Creamline's Best of Local range. You may have noticed that many of our milk floats are electric – just another way we're working towards a greener future!
Share This
Related Posts