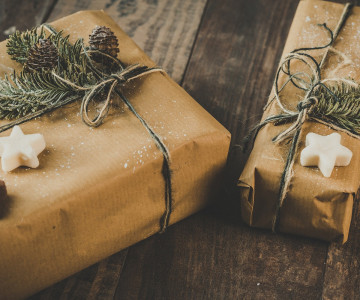 Top tips for last minute Christmas shopping
Have you finished all your Christmas present shopping yet? If not, you're not alone – research has found that over 30% of people leave most of their present shopping until mid-December. 

With the big day just two weeks away, you may feel present panic settling in, but fear not – we've put together our top tips to help you pull your (Christmas) stockings up and get your presents sorted:
Shop smart, not hard
Christmas shopping can be a stressful experience, with the perfect presents seeming to elude us in every shop. Fortunately, with the right knowledge, Christmas shopping can be a breeze, even if it's left to the last minute!
A study from the Journal of Experimental Social Psychology has suggested that, somewhat surprisingly, most people prefer presents that reflect the personality of the person gifting them. This means that, instead of spending ages trying to guess what your loved ones want for Christmas, you can look at present shopping in a whole new light and choose gifts you think would make great presents.
Reduce, reuse, regift
Let's face it – at some point or another, we've all received a present we know we'll never use. Whether it's a book you've already read, a jumper that doesn't quite fit, or another coffee mug, the unwanted gifts tucked away in your home could be perfect for someone else.
And regifting won't just save you a trip to the shops, it's also great for the environment. With almost 1 in 5 unwanted Christmas presents ending up in landfill each year, giving your unwanted presents a new home with someone else can help to reduce unnecessary waste during the festive season. Just be sure you don't return last year's present to the person who gifted it to you, of course!
Shop locally for unique gifts
We're passionate about shopping locally here at Creamline, so it should be no surprise that we advocate for turning to smaller, local businesses for your Christmas presents. In addition to helping local businesses to thrive, shopping locally is a fantastic way to find gifts you won't get elsewhere and make your loved ones' Christmas extra special.
You can find a whole host of locally made and lovingly crafted produce right here in our Best of Local Christmas range. For the foodies in your life, our mouth-watering hampers of Cheshire Cheese Co's finest truckles make a delightful gift. And for chocolate lovers, shop gorgeous truffles, gift boxes, and more from award-winning chocolatier Slattery.
With free doorstep delivery up until 24th December, plus the option to add a second address to your Creamline account, a whole host of delicious and unique Christmas gifts are just a few clicks away. 
Share This
Related Posts