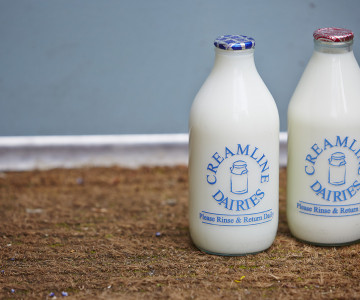 Call on Creamline for your Christmas shopping: Last delivery dates
We're here to make sure your Christmas food shopping is hassle free, which is why we'll be delivering up until Christmas Eve – to help you feed all the family!
If you're looking to receive market fresh fruit and veg before Christmas, then orders need to be placed by 9pm, on the 22nd December. Simply head over to www.creamline.co.uk/shop/fruit-and-veg, click and choose your favourite fruit & veg and we'll then deliver to your doorstep for free.
Fruit & Veg orders for New Year will need to be ordered by 9pm on Tuesday 29th for delivery on Thursday 31st December. The next available delivery of Fruit & Veg boxes will be Monday 4th January and these will need to be ordered by 9pm on Saturday 2nd January.

If your store cupboard is in need of a Christmas top up, or your fridge is looking a little bare, then Creamline customers can place their order on www.creamline.co.uk up until 9pm on the 23rd, to receive your dairy and convenience store items on the 24th December.
Over the festive period our Customer Service Department opening times will be as follows:

Closed 2.00pm Christmas Eve until Monday 28th December 7.00am
Closed 2.00pm New Years Eve until Saturday 2nd January 7.00am
We will check for anything urgent during Sunday 27th December.
Share This
Related Posts