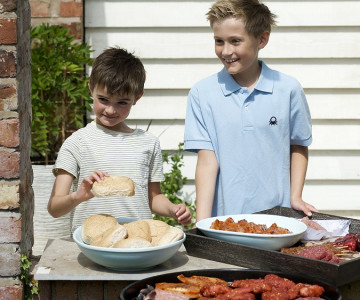 Top tips for a grill-iant BBQ Week!
In last week's blog post we took you through this summer's sizzling BBQ range, back by popular demand to cover all your alfresco dining needs this summer. As this week marks National BBQ Week, we thought we would continue in this theme with our top tips for a showstopping BBQ – make sure you get stocked up here first!
Get the BBQ right
Most cooking connoisseurs will recommend a charcoal BBQ, to give your meat that extra smoky flavour. If you're a real BBQ fiend, try adding wood chips, which can help add sweetness and flavour to whatever you're barbecuing.
Test the heat
One of the easiest ways to do this is by hand. Hold your hand about 5 inches above the grill – if you can hold it there comfortably for around 6 seconds, you have a low heat, if it around 4 seconds, it's a medium heat.
Cooking safely
Cooking for a crowd can get stressful, so making sure you cook safely is important. Take your meat out of the fridge at least 20 minutes before hitting the grill, as this will allow it to reach room temperature. Investing in a temperature probe is a good idea too, and be sure to avoid cross-contamination with raw meat.
Make sure you marinate
Doing this overnight usually brings the best results! Shake off excess marinade before you place your meat on the grill, as too much sauce can risk the meat burning or the BBQ flaring.
Of course, don't forget that many of the delicious options from Little Pigs have already been pre-marinated for you by the experts! Take the hassle out of your summer BBQ with Creamline, with ready pre-prepared packs that can be ordered for free, next-day delivery. Have a browse of the range here.
Share This
Related Posts