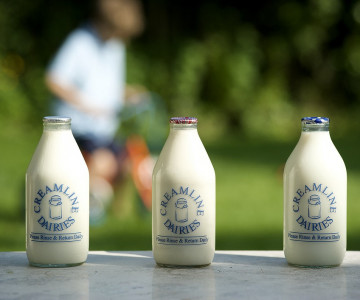 Thinking Green this Recycle Week
Recycling has been big news this year – from the Blue Planet effect to the latte levy, people across the UK have been thinking more and more about how to be greener. There has been great progress - we recycle twice as much as we did 15 years ago – but there are still ways to improve our efforts!
With the BBC documentary Drowning in Plastic set to air next week, the conversation is still alive and well, and here at Creamline, we're always looking for ways to help people reduce their plastic consumption. Read on to find out more about Recycle Week, and what we're planning at Creamline…
Recycle Week
Recycle Week is a celebration of recycling, being held all this week, with a whole host of businesses and charities helping to promote it. From Coca-Cola and Marmite to the National Theatre and the Manchester Food and Drink Festival, plenty of people are getting involved.
79% of all the plastic waste ever produced is still in the environment, which is why 2018's Recycle Week is the biggest yet. More and more of us are recycling, but there are still ways to make a difference and keep recycling at the top of the agenda.
Creamline's Plastic Free Aisle
As well as recycling, many of us are now looking for ways to reduce our plastic usage, as a way to start living greener. With the launch of our new website, we're helping to make this even easier for our customers.
We're launching our Plastic Free aisle – wherever you spot the green dolphin icon, you can rest assured that the product you're buying is completely free of plastic packaging. These items are available across both our Daily Essentials and Best of Local ranges, and we're always looking for ways to introduce more environmentally-friendly produce.
Why not start your plastic-free journey today?
Share This
Related Posts