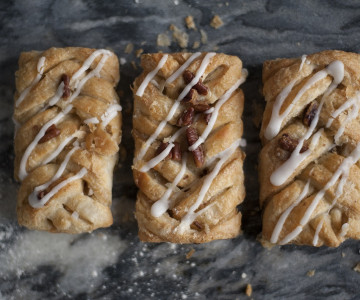 Things are about to get Spooky!
It's nearly time for Halloween but before you start carving your pumpkin, read on for some Halloween history and terrifyingly tasty Creamline recipes!
Haunting Halloween History              
A lot of people see Halloween as an American holiday that has been imported into Britain but in fact, it's the reverse - it has its roots way back in ancient Britain when Celtic people celebrated a festival known as Samhain.
Samhain was a time for Celts to celebrate the spirits of their dead ancestors and animal gods. It was a seen as a magical time of year – when the line between the living and dead became blurred, as the darker half of the year began.
Another feature of the festival was dressing up in scary outfits to ward off bad spirits that could shift into the human world at this magical time of year. Over time this evolved into what we recognise today as Halloween costumes.
The name Halloween comes from a Christian festival introduced on 1st November called All Saints Day, the day before was known as all Hallows Eve: transforming over time to be known simply as Halloween.
Hair Raising Halloween Recipes
If you're on the lookout for something sweet to snack on this Halloween – then look no further because we've got you covered!
Petrifyingly Perfect Parkin – we've got a brilliant recipe for thick, gooey parkin that melts in the mouth. Even better, it only takes one day to mature, unlike many other recipes which take weeks.
Twisted Toffee Apples – these crunchy apples are slowly twirled in a luxurious layer of thick toffee coating. Easy and fun to make, they are bound to be a hit with any sweet toothed connoisseur; whether young or old.
Trick or Treat Treacle Tart – this mischievous dessert makes the perfect autumnal treat. It'll leave the taste buds tantalised and your family members asking for a second serving!
Share This
Related Posts