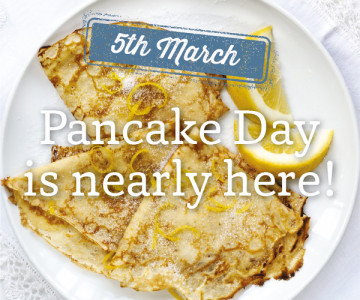 Stack 'em up this Shrove Tuesday!
Next Tuesday will see us at the kitchen hob flipping our dinner around, which can mean only one thing – it's Shrove Tuesday of course! Otherwise known as Pancake Day, it's a firm family favourite for many people. It's widely believed that the origins of the tasty treat lie with Lent traditions, but it may surprise you to learn that the pancake's history goes way back!
According to some researchers, analysis of starch grains suggests that our prehistoric ancestors may well have eaten pancakes. A 30,000-year-old tool had traces of the grains, which researchers believe means that our culinary Stone Age counterparts were making flour from cattails and ferns, which they then mixed with water and baked. The perfect pancake surface? Any hot, flat rock – which probably produced something like the modern-day crepe.
Pancake-like recipes have been a common item in many diets over the years – the Ancient Greeks and Romans ate them topped with honey, and Elizabethans flavoured them with spices and fruit. Of course, they were a good way to use up perishables before Lent, so they became a traditional meal at this time of year.
Avoid a flop with Creamline
We're on hand to make sure you have a flipping good day, with quality ingredients and some great recipe ideas. Why stick to the same toppings? Try some of these mouth-watering combinations to make 2019's Shrove Tuesday a little different:
Butternut squash, goat's cheese and rosemary – try making these pancakes in more of a fritter-style, and serve up with peppery rocket salad.
Bacon and avocado – this makes for a delicious brunch. Why wait until Shrove Tuesday?
Dark chocolate and banana – perfect for afters, this is a great healthy option for little ones.
All set for Pancake Day? Don't forget that Pancake Packs are available to order from our Daily Essentials range now! Choose from rich Nutella or classic lemon and sugar. Frying pans at the ready!
Share This
Related Posts