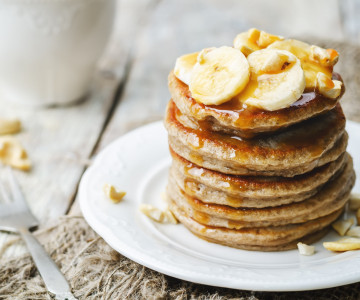 Avoid a Flop this Shrove Tuesday
With pancake day less than a week away (28th February), this year we're here to make sure you have all you need to have a flipping good day! Read on to find out more about our Creamline pancake pack – offering all the ingredients you need to feed the family, as well as some interesting facts about this treasured tradition.
History of Shrove Tuesday
To some people, it must seem odd that we have a day solely dedicated to pancakes but there is logic behind the batter! Shrove Tuesday marks the day before Ash Wednesday, which is officially the first day of Lent in the Christian Calendar.
Lent is the time when many Christians give up rich food and drink items; as part of their Lenten Fast. Historically, this always made Shrove Tuesday the perfect time to use up any excess eggs and butter around the house to make pancakes, before the fasting started.  
Pancakes Around the World
Here in Britain, traditional pancakes are thin and quick to cook. They can be served with a wide variety of different toppings but traditionally lemon and sugar are most common. Pancakes are enjoyed in many countries around the world and come in many different forms:
·         In the US and Canada, pancakes are much thicker and fluffier than British pancakes – resembling something much closer to what we'd refer to as Scotch Pancakes.
·         In many parts of the world, such as Eastern Europe and Japan, pancakes are a much more savoury affair: you'll find blini in Russia served with caviar & cream cheese and okonomiyaki in Japan served with chicken or beef.
·         China and Korea have their own take on the pancake too: Chinese pancake batter is made into an elastic like dough and often served with soy milk whilst Korean jeon is made with sweet rice and edible flowers.
Get Flipping With Creamline
In anticipation of Shrove Tuesday, we're delivering a special pack of pancake ingredients along with two lemons and a kilogram of sugar, delivered straight to your door and all for just £3.75.
Ordering the pancake pack is easy, all you'll need to do is click on the product page here and place your order.
Want to practice your pancake making skills before the big day? You can order your pancake packs today via the Creamline website and get them delivered to your door from tomorrow up until the 28th February. Just remember you must place your order by 9pm on 27th February, to receive your pack in time for Shrove Tuesday. 
Share This
Related Posts