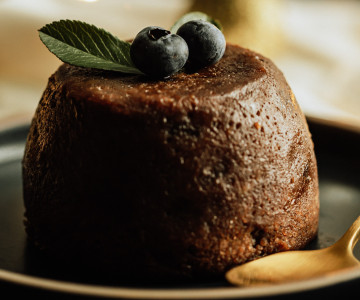 'Tis the season for… sweet treats!
Christmas wouldn't be Christmas without the obligatory cupboard full of sweet treats – and our local producers didn't disappoint with their festive offerings for 2020! With our old favourites from Thatcher's Bakery and our new supplier SLAB bakery on board, make your festive season that bit sweeter with these delicious puds.
Here are our top picks!
Thatcher's Deep Filled Mince Pies
Six expertly crafted and baked mince pies. Thatcher's know a thing or two about perfecting festive staples, and these are no exception. Don't forget the traybake, too!
Vegan Cranberry Traybake
Vegans and carnivores alike will find this scrumptious traybake irresistible… Lovingly made by Thatcher's, this traybake is something really special for the whole family to enjoy.
Luxury Mulled Gin Christmas Fruit Pudding
Mulled gin, we hear you say? This is a SLAB original recipe, with gin being founder Lesley's favourite tipple she wanted to create something lighter that felt really festive. Packed with fruit and without palm oil and plastic wrapping, what more could you ask for?
Sticky Toffee Pudding
It's no surprise that this delicious pud is an award-winner. It's light, moreish and bursting with sweet fruit. The ultimate comfort dessert to hunker down with this December!
Orange & Pistachio Polenta Cake
Orange is a really seasonal flavour for this time of year, so this cake is a winner all round! With absolutely no refined sugars or plastic packaging, it's about as guilt-free as Christmas indulgence gets!
You can browse the full range here – don't forget the cream too! You can choose a delivery date for your festive food between 7th – 24th December, and Christmas Eve is our last pre-Christmas Best of Local delivery date so you'll need to get your orders in by 9pm two days before your last delivery date.
Share This
Related Posts