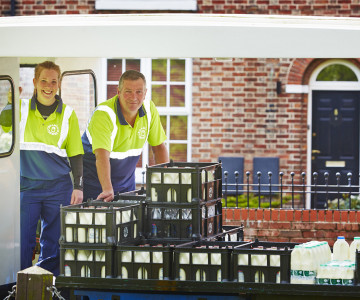 Remembering when warm bottle milk was 'height of freshness'
Cold bottle milk is a fairly standard expectation these days - and you're likely to find your home milk delivery is well chilled before arrival, and probably place it straight into your fridge when you collect it too.
But there was a time when warm milk was considered the 'height of freshness', and an exhibition at Fleet Library looks back to that time.
The exhibition has been organised by Fleet and Crookham Local History Group, and group member Phyllis Ralton told Get Hampshire why a higher temperature was a good thing in the 19th century.
"Cleanliness was the top priority and the milk was transported in churns to the dairies," she explained.
"Before refrigeration it was difficult to stop the milk from going off, although some dairies advertised its freshness as being still 'warm from the cow'."
She added that home milk delivery at the time involved a hand-drawn cart, and milk would be ladled into the customer's own jug.
It was not until the 1880s that the first milk bottles were produced; bottle milk was widespread by the 1920s, but in some parts of England arrived as late as the 1940s.
Share This
Related Posts