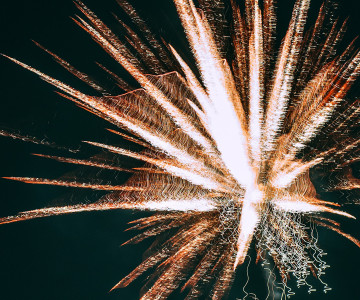 Remember, remember the fifth of November!
It's Bonfire Night and, with the cold weather settling in, we're especially excited to warm ourselves up around a huge fire! Bonfire Night takes place on the 5th of November each year, to commemorate the discovery of the Gunpowder plot in 1605. The plot involved thirteen conspirators, who planted 36 barrels of gunpowder beneath Parliament with the aim of blowing up King James I and, ultimately, returning England to a Catholic country.

The plan was foiled in the early hours of the 5th of November, when a search of Parliament uncovered gunpowder in the cellar, alongside conspirator Guy (Guido) Fawkes.
Although not the ringleader of the conspirators, Guy Fawkes' name is forever associated with the 5th of November, and effigies of Guy are commonly burnt on bonfires across the country each year.
Celebrate with a seasonal recipe: Parkin
Whether you're heading to a bonfire this evening, or having a quiet evening in, you can celebrate Bonfire Night by trying your hand at a traditional recipe: Parkin. Flavoured with treacle and spices, Parkin is a delicious treat that is perfect to enjoy at a bonfire – or just with a cup of tea!
Ingredients
110g soft butter
110g soft dark brown sugar
55g black treacle
200g golden syrup
225g medium oatmeal
110g self-raising flour
2 tsp ground ginger
1 tsp ground mixed spice
2 medium eggs, beaten
1 tbsp milk
Pinch of salt
Method
1) Preheat the oven to 140C/120C fan/Gas Mark 1. Grease and line a 20cm x 20cm square cake tin.
2) In a pan, over a gentle heat, melt the butter, sugar, treacle and golden syrup. Don't allow the mixture to get too hot or bubble. When they have melted together remove from the heat and allow to cool slightly.
3) In a large mixing bowl sift in the dry ingredients and make a well in the centre. Gradually add the melted butter mixture and fold together. Pour in the beaten eggs and milk and combine.
4) Pour into your baking tin. Bake for approximately 1.5 hours.
5) Remove from the oven and leave in the tin for 20 minutes. Tip onto a cake rack and leave to cool completely.
6) Store the parkin in a cake tin and wrap in greaseproof paper. For the best results, leave in the tin for a minimum of 1 day and up to a week before you cut it.
Share This
Related Posts