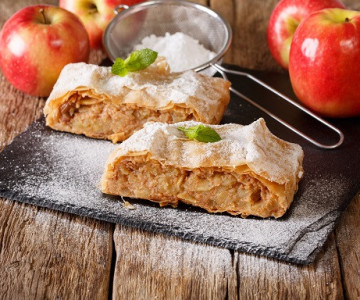 Recreate the magic of the Christmas markets at home
If you haven't made it to the Christmas Markets this year, fear not – our exquisite recipe for Austrian apple and cinnamon strudels is perfect for recreating the magic of the markets at home.

Featuring a mouth-watering combination of apples, sugar, butter, and cinnamon, these strudels make for a delightful winter treat, and are sure to have you feeling festive!
Ingredients
• 7g dried yeast
• 1 tablespoon caster sugar
• 125ml warm milk
• 225g plain flour
• Pinch of salt
• 1 egg, lightly whisked
• 100g butter, chopped, softened slightly
• 1 granny smith apple, peeled, cored, finely chopped
• 90g sultanas
• 2 teaspoons ground cinnamon
• 50g butter, softened, extra
• 100g brown sugar
• 150g icing sugar mixture
• 1 tablespoon milk, extra
Method
1. Combine yeast, caster sugar and milk in a bowl. Set aside in a warm place for 5 minutes or until foaming.
2. Meanwhile, place the flour and salt in a large bowl and make a well in the centre. Add the milk mixture and egg and use a round-bladed knife to stir until combined. Turn onto a lightly floured surface and gently knead until smooth.
3. Roll dough out to form a 20 x 30cm rectangle. Dot the butter over two-thirds of the dough. Fold dough into thirds to enclose the butter.
4. Turn the dough clockwise 90 degrees and then roll dough into a 20 x 30cm rectangle. Repeat folding, turning, and rolling.
5. The, fold the dough into thirds, cover it with cling film and place it in the fridge for 15 minutes to rest.
6. Repeat this rolling and folding process 2 more times. Cover and rest in fridge for 15 minutes. Continue process one more time. Cover with cling film and place in fridge for 30 minutes to rest.
7. Preheat oven to 200°C. Line an oven tray with baking paper. Combine the apple, sultanas, and cinnamon in a bowl. Combine the extra butter and brown sugar in a bowl. Roll the dough into a 25 x 35cm rectangle. Spread the butter mixture evenly over the dough. Sprinkle with the apple mixture. Starting at a long end, roll dough Swiss-roll style to form a log. Use a small, sharp knife to cut log widthways at 2.5cm intervals into 12 discs.
8. Place the discs on the lined tray, leaving room for spreading. Set aside in a warm place for 15 minutes to rise. Bake in preheated oven for 15 minutes or until golden brown and cooked through. Remove from oven and set aside on the tray to cool.
9. Combine the icing sugar and milk in a small bowl to make a smooth paste. Place in a piping bag. Snip the end and drizzle evenly over the pastries. Set aside for 15 minutes to set before serving.
Serving tip
To enjoy your strudels to the fullest, we recommend serving with delicious, piping hot coffee. To give your cuppa an extra kick, you can find delectable coffee syrups from local suppliers, right here in our Best of Local range. If coffee isn't your thing, then why not try indulgent hot chocolate bombs? Produced by award winning chocolatier, Slattery, these bombs melt in warm milk to reveal a secret treat. Order today to have them delivered straight to your door for free!
Share This
Related Posts