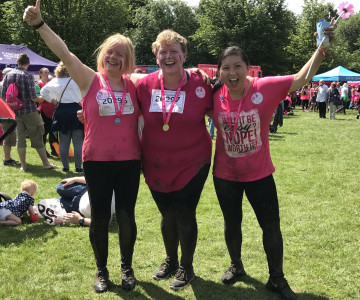 Pretty Muddy Fundraising Run
We're very proud of our team, who recently got messy in the mud, all for a good cause though: as part of Race for Life's Pretty Muddy event. Marie Brown, Debbie Hodgkinson and Jenny Woolhead all bravely took on the tough obstacle course – battling it out with a whole host of different challenges. They stomped across 5km of rugged terrain; climbing, charging and even crawling when necessary!
The Creamline trio did exceptionally well, raising an incredible £1000 for Cancer Research UK. It was all done in honour and memory of dearly loved colleague and friend Mike Bayley: who died earlier this year from cancer. Debbie said: "This year we lost a very special friend and colleague to cancer, which spurred us on even more, to run in his memory as Mike's muddy milk maids."
The event, which is now held at Heaton Park in Manchester, attracted an incredible 11,000 women who on 8th July got on their running shoes to have fun and fundraise all at the same time. They battled it out with nine major obstacles which included mud drenched tunnels, a giant A frame to clamber over and of course… a lot of mud pits along the way!
Here at Creamline, we supported the ladies' efforts by boosting donations. We've highly committed to supporting our communities. Our charity efforts have also included our latest Salford Business Awards win, within the Community category, for our charity work. Not to mention our long-established Creamline Lottery, which included our Cream of the Community - to reward community spirited people living within Greater Manchester and Cheshire.
Three cheers for the trio. Well done Marie, Debbie and Jenny – Creamline is behind you every (muddy) step of the way!
Share This
Related Posts