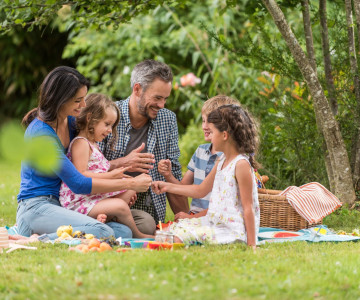 Pack the perfect picnic this summer
With a heatwave set to hit Manchester at the end of the month, now is the perfect time to plan for a picnic! Why not get the whole family together for some alfresco fun? We've picked our favourite picnic spots around Manchester, as well as some delicious treats to pack.
Choosing your spot
As one of Europe's biggest, Heaton Park is a great option. With over 600 acres to explore, there's something for the whole family. Spread your blanket out and relax or head off to explore the historic Heaton Hall.
If you're looking for something a little different, why not try Whitworth Park? The Whitworth Art Gallery offers indoor and outdoor events, ranging from film screenings to modern art exhibitions.
If you want to keep things simple, then you can't go wrong with Chorlton Water Park. A short stroll from Chorlton Green, this spot is ideal for a classic picnic. If you're feeling adventurous, you can even follow the banks of the River Mersey all the way to Sale Water Park.
Preparing your picnic
Now you've settled on the perfect picnic spot, it's time to think food! We've put together some of our favourite treats that can make your picnic extra special.
Sandwiches are a picnic staple, so picking the right bread is key. We love the Poppy Top Malted Rolls from Thatcher's Bakery, which are baked fresh every day, and add texture and flavour to any sandwich.
The right cheese can be the perfect addition to your sandwiches or be enjoyed as a standalone snack. We particularly recommend the Smokey Redwood Cheese Truckle from Cheshire Cheese Company, which is flavoursome and rich in equal amounts!

We always love to end a picnic with a sweet treat, and Thatcher's Bakery has a lot to offer! Their Lemon Loaf Cake is a fabulous, light treat that will bring a real zest to your picnic. If you're looking for something more indulgent, their Choc Shortcake Slices are the perfect pick.
Share This
Related Posts