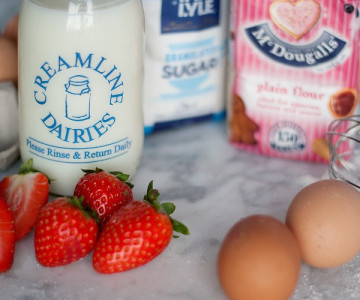 Our recipe for a flipping delicious Pancake Day!
Frying pans at the ready – it's once again that time of year, and Creamline has more delicious options than ever to keep you busy this Shrove Tuesday! From little ones to grownups, it's a great excuse to get the whole family stuck in in the kitchen.
Here are our top tips to make sure your Pancake Day stacks up:
Keep the batter simple – easy peasy with a little help from our pancake packs!
Make sure your pan is nice and hot – test with a few drops of water, if they sizzle, get flipping.
Keep your pancake thin – swirl just enough batter to coat the bottom of the pan.
It may be tempting to get stuck in, but allow your batter to chill for half an hour or so before cooking. This will thicken it up nicely, banishing leathery pancakes.
Ready to stock up? We've got our pancake packs ready to go, complete with 500g of plain flour, 6 large eggs and 1 pint of our fresh glass bottled semi skimmed milk. Choose from the toppings below:
The traditional. 2 lemons and 1kg sugar complete our classic pancake pack for a good old-fashioned Shrove Tuesday.
Chocoholics rejoice; this pack comes with a generous helping of 200g Nutella, a firm favourite among pancake connoisseurs.
Fresh from Manchester's Smithfield Market, choose from either 300g of juicy strawberries or 125g of blueberries to top your pancakes.
Available now as part of our Daily Essentials range, head here to stock up. Don't forget to order by Monday 24th to receive in time for Shrove Tuesday – it will soon crêpe up…
Share This
Related Posts